@ The Banana Factory, Bethlehem, PA
Each Friday over the summer, the Banana Factory brings in a visiting artist or performance to do an activity with their art campers. For 45 minutes, I had the privilege to teach this talented group of 19 kids, ages 4-9, at Art Camp. As part of a STEAM education initiative, our theme was "May the Force be With You: Planetary Science & Laws of Physics."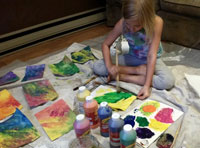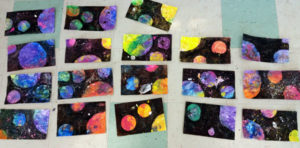 My 9-year-old daughter Sofia helped pre-paint the backgrounds a few nights before. In class, campers filled in the black of space after tracing around cups to create planets…then splattering on the stars with toothbrushes. They did great and we all had fun, not to mention a lot of laughs along the way!