@ Familienpletz on North Side, Bethlehem, PA
MusikFest is a 10-day music festival boasting 500+ live shows on 14 stages over 10 days every August. More than 900,000 people come to experience the music, art, food, (drinks!) and vendors on the streets of downtown Bethlehem each year. In 2017, I was asked to be a Demo Artist for The Banana Factory and was honored to.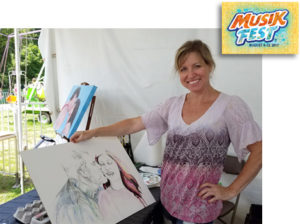 The KISS Project – Je t'adore
For 12:30 to 2:30 on Sunday, people could walk by and see me working on the 3rd Kiss painting (Lisa & PJ), a mixed media piece. I did the drawing before the event and then started on ink and watercolor for the Demo. The two other Kiss paintings of Ronny & Bill and Nyssa & Rob were on display, along with flyers on the project. Friends stopped by, met some nice people and got to talk about my art, while watercoloring away! It was a good day.