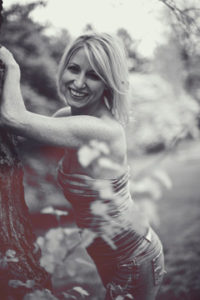 Pennsylvania native, creative. Award-winning entrepreneur and graphic designer. Copy writer. Programmer. Fitness & art teacher. Yogi, dancer & dryad. Mom. Daughter. Sister. Kickass friend, dog lover, dreamer…artist.
ARTIST STATEMENT:
My artistic path started as a child, and like many, I focused on graphic design for a career. I missed out on art school, but started my own ad agency in 1995. Now still self-employed, a mom and mid-life what-am-I doing  wonder. I opened my art studio in 2015 to create art and a life that speak to the soul.
My joy comes from the creation process itself, the play and magical happenstance that transforms art into the unforgettable. I love stimulating emotion through color and intimate form, whether it stems from a human bond or those found in nature. Deepening connection through a wild palette of mediums and color, contrasts and texture, perspective.  I typically start from my own emotional and tactile reaction to a subject, then delve into drawing, painting, collage, jewelry or whatever medium calls.
Currently experimenting and exploring the link between nature, spirituality and sensuality; the impact of friendship, love, awe; the passion of dance, music, abandon…my work includes nudes, nature scenes, landscapes and whimsical creations of "what if" and other bohemian delights.
SOLO EXHIBITIONS
October 2017 – Banana Factory Artist Collective, 24 E. Third St., Bethlehem, PA
May 2017 – Art on Main, The Gem Shop, Bethlehem, PA
GROUP EXHIBITIONS
September 2017 – "Can Be Rude", One Billion Rising Flemington, Lamberstville, NJ
March 2017 –  "The Past", Coffee House Without Limits, Allentown, PA
September 2016 – "Artists of Cigar Factory", The Alternative Gallery, Allentown, PA
August 2016 – "10th Annual Morning Call Juried Exhibition", Baum School of Art, Allentown, PA
July 2016 – UDEAC Erotic Art Show, Basin & Main, Honesdale, PA
TEACHING & AFFILIATIONS:
Creator & host of WickeDraw, open drawing sessions
Licensed Facilitator of YogART® Workshops, transformative art classes
AFAA-Certifid Group Fitness Instructor

AWARDS & DISTINCTIONS:
2014 Award of Distinction, The Communicator Awards
2007 American Graphic Design Award, Graphic Design:usa
2006 Published in COLOR: Messages and Meanings – A Pantone Color Resource
2006 American Graphic Design Award, Graphic Design:usa
2005 (2) American Graphic Design Awards, Graphic Design:usa
2004 Addy Award, 2nd Place , Ad Club of Northeast PA & AAF
2001 (2) American Graphic Design Awards, Graphic Design:usa
2001 Top 20 Under 40 Award, Northeast PA Business Journal
Michelle Lee | mlee@michelleleearts.com
Studio #413 at The Cigar Factory Artist Studios